Methodology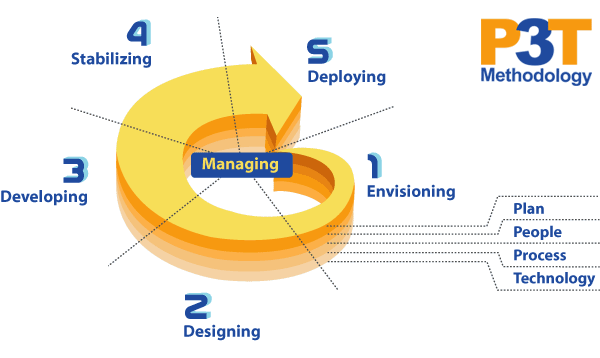 atQuest Solution delivers solutions through a proven methodology called P3T . We derived our delivery methodology from our vast experiences and exposures from different delivery methodologies of global consulting firms. Our methodology strikes a balance between global quality standard and local environment focus. There are three dimensions to our methodology: Vertical, Horizontal & Cross.
Conduct Requirements Gathering, Finalize Scope of Solution
Define Functional and Technical Specifications of Solution
Complete Detailed Design, Build System & Perform Unit Test, Perform System Integration Test
Prepare and Conduct User Acceptance Test, Develop User Manuals, Develop Administration & Technical Guide, Conduct Train-the-Trainer Sessions, Facilitate System & Data Conversion
Propose Deployment Plan, Facilitate Deployment & Handover of Solution
Proven Technology
Many of our consulting services offering are designed to complement our comprehensive solutions. These services offer the proven methods, procedures and guidelines to successfully maximize your return on investment. Most enterprises today have unique requirements for an information platform, reflecting their diversity in organization setup, value and culture. Regardless of their diverse industry; providing reliable, secure and scalable technology is always the fundamental principle of atQuest.
PROJECT MANAGEMENT
In this area, our methodology comprises of Issues and Risk Management, Resource Management, Cost Management and Status Management. These components coupled with our in-depth knowledge in IT ensure the success of the projects to enable your employees to focus on the business operations.
SOLUTION ENGINEERING
In this respect, we design, develop and implement the solution. Our Solution Engineering service comprises of consulting advice in the areas of Customer Relationship Management (CRM), eCommerce, Enterprise Business Solutions, e-Supply Chain, e-Human Resource Management and Knowledge Management.
INFORMATION TECHNOLOGY STRATEGIC PLANNING (ISP)
We offer solutions that assist our clients in going through the planning exercise to ensure all the IT strategies are aligned with the business goals. Our proven methodology ensures our clients that their IT strategies will not just focus on long term returns, but also short term gains.
PROCESS REENGINEERING
We ensure that the reengineering activities integrate the organization's strategy, human performance and business operations to produce superior processes. Designing new process models, eliminating non-value added processes, as well as standardizing processes are some of our works.
CHANGE MANAGEMENT
We assist our clients in change management initiatives by developing communication plans, managing the paradigm shift of mindset to increase awareness and acceptance of changes. Our experts in Change Management team are experienced and equipped with the best methodology and approach.
Mobility
We aim to understand, validate and shape strategy for the mobile application customers sought us for, based on actual business needs and goals. With mobile platform as a canvas, we provide user experience and graphic design services to create mobile applications which are not only look gorgeous but also easy to use, functional and fully express its business value.
We build native applications for iOS and Android, as well as provide the necessary required server-side application stack that supports the mobile app. By providing a complete end-to-end service, the mobile application is assured to integrate well and function without friction.
Cloud Computing
Cloud computing is already driving new levels of flexibility and cost savings for organizations of all sizes in all industry sectors. Unlike on-premises hosting, the price of deploying applications in the cloud can be much less due to lower hardware costs involved. Moreover, Cloud Computing allows universal access for users located remotely to access applications, data and work via the Internet.
With cloud computing, physical resources can also be shared securely between different organizations, leading to a more efficient use of the shared resources. It is more environmentally friendlier too as the average amount of energy needed for a computational action carried out in the cloud is far less than the average amount for an on-premise hosting.
Leveraging on Microsoft Azure, we offer services such as deployment, configuration, training and consultancy to cater the needs of an organization.
Learning Management System
Built on a unified & global LMS platform – Saba Cloud [email protected], our solution sets the standard for learning management systems. We bring together best-in-class capabilities for social and formal learning.
It aims to transform your learning processes from classroom and administration-centric processes to truly learner-centric processes that drive high levels of development and engagement for your entire extended people network of employees, partners and customers.
Communication & Collaboration
A collaboration environment together with an integrated communication platform, can lead to dramatic increases in business value through decrease in IT support requirements and costs, as well as more effective business processes. Our team of consultants has designed, built and successfully deployed hundreds of horizontal portal solution which include:
atQuest Smart Enterprise Portal
atQuest Enterprise Knowledge Management Portal
atQuest Employee Portal
atQuest SOP Management Portal
atQuest SDLC Management Portal
atQuest Document Life Cycle Management Portal
Content & E-Commerce
With the rise of content-driven commerce, it has become more important for online retailers who want to tell stories of the products instead of traditional online catalog. Content driven e-commerce promote merchandising beyond the store front- cultivating attention, interest and desire for what's in your catalog, outside of the catalog experience.
Our content driven e-commerce solution provides merchant with a complete retail toolset to drive significant online revenue growth and meaningful customer engagement. We will work with you to customize your online store, add products, and you're pretty much ready to accept payments, you can check customwater.com to see one of the best products with their custom bottle of waters for any type of event or business.
Business Process Automation
All businesses have processes. Being pervasive to all organizations, efficient processes can save time and money, while increase productivity and profitability. We focus on delivering horizontal process automation solution in:
Finance
Operations
Sales and Marketing

Human Resources